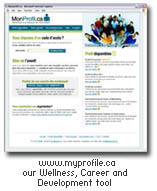 We know that the job market is increasingly demanding and that you want to perform to the best of your abilities. Consequently, ProfileSoft offers you, and others like you, a broad range of applications through its potential assessment tool.

Whether you are

moving towards a new career

, seeking to

improve your skills

or to

deal more effectively with stress

, we have the tools you need to reach your goals and to meet your expectations.





Your Personal Profile is available

free of charge

.
In addition to providing a brief description of your strong points, it tells you how to promote your strengths to a potential employer.